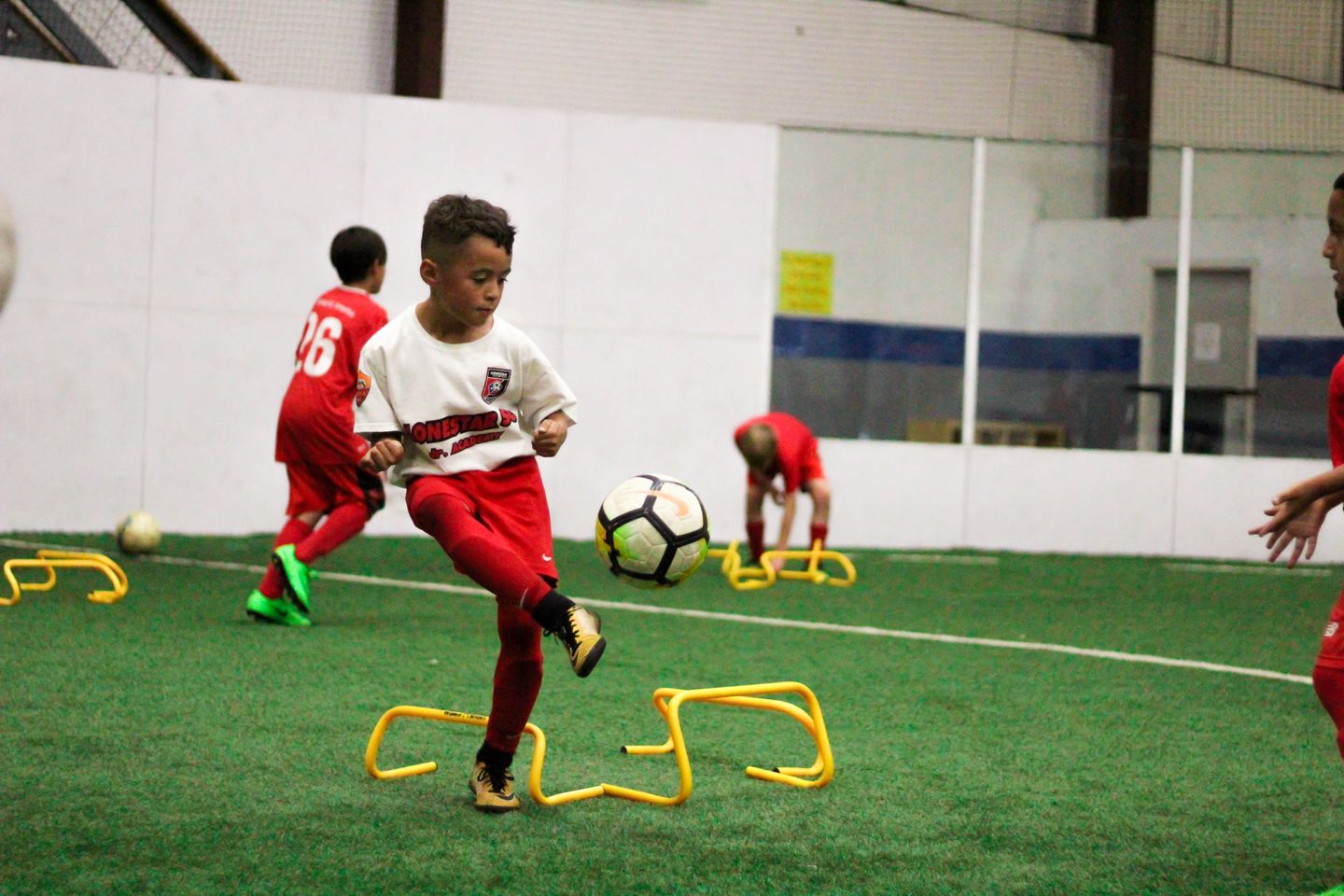 SUMMER CAMPS 2023
HALO provides stellar summer camp programming run out of a state-of-the-art temperature controlled arenas at Soccer Zone South Austin. Enhance your fundamentals and competitive edge during summer break. Come join us for our Footwork and Finishing Camps all summer long. We promise to keep your kid safe, active and entertained!
We are proud to partner with Soccer Zone South Austin and Lakeline to bring full-day ($350/week) and half-day ($225/week) Footwork & Finishing Camps to Austin area.
Kids will join our HALO staff the rest of the day at "All-star Sports Camp", presented by Soccer Zone, to complete full day of camp (8:30am – 12:00pm or 1:00pm – 4:30pm). Early drop-off (8:00 am) and late pick-up (5:00 pm) each cost $25/week. Lunch is provided for full-day campers.
REGISTRATION OPENS APRIL 2023
SUMMER CAMP SAMPLE SCHEDULE
MONDAY - FRIDAY (8:30am - 12:00pm)
FOOTWORK & FINISHING SUMMER CAMPS
Footwork is the universal basic fundamental of all major sports. Gaining a mastery level of basic movements helps athletes reach their full potential. Finishing is the most important part of every play in every game of every sport. Whether scoring a goal or touchdown, we train our athletes to be at their best when the game is on the line.
HALO's signature games are designed for participants to improve their footwork, learn to finish plays in their sport and promote having fun while competing with peers. Games are age appropriate, skill specific and matched up based on level of skill.
We incorporate ladders, hurdles, rings and other training equipment to simulate game movements. HALO's Footwork and Finishing Games create a fun, unique and safe environment for athletes to grow their game. Throughout the week, campers will be exposed to fun games, all major sports, HALO's Footwork & Finishing games and leadership building activities.
Regardless of sport, size, age and ability, improved footwork elevates your game to new heights. Our participants are consistently challenged to fine-tune their footwork and finishing abilities. Click on location to register.
HALO Footwork & Finishing Summer Camps
FOOTWORK & FINISHING CAMP
FOOTWORK & FINISHING CAMP
SUMMER CAMP DETAILS & GUARANTEES:
Open invitation for kids 5-14 willing to participate
All activities are age and skill appropriate when training
Focus on fundamental footwork and completing plays
Diligently work to develop overall athleticism
Encouraging approach to coaching all participants
Daily Footwork and Finishing Games during camp
Leadership message daily on HALO's Honor Code
Benchmark testing on Mondays and Fridays
CLICK LOCATION BELOW TO REGISTER! REGISTRATION OPENING APRIL 2023